[{"assetImage":"15567","assetFlag":"","assets":[15567]},{"assetImage":"15571","assetFlag":"","assets":[15571]},{"assetImage":"13717","assetFlag":"","assets":[13717]},{"assetImage":"13719","assetFlag":"","assets":[13719]},{"assetImage":"8312","assetFlag":"","assets":[8312]}]
2_Odkryj_Ystad_w_jeden_dzien

4_Odkryj_Ystad_w_jeden_dzien

prom polonia unity line ystad świnoujście
m/f Polonia or Skania
from 369 PLN
Offer available by phone or e-mail only
Call
booking@unityline.eu
Date: 2023 (excluding Fridays, Saturdays and Sundays 01.07–31.08.2023)
A lovely Swedish town with medieval old town, or a morose scenery of Henning Mankell's crime stories? Come with us and see for yourself what Ystad is like! Choose a cruise on the Polonia and listen to the trumpet call from St Mary's Church in the evening. Board the Skania, and you'll have a herring sandwich for breakfast, at officer Wallander's favorite cafe. Before and after the sightseeing, we provide you with a comfortable ferry cabin, full board and a view of the endless sea. Do not wait for the weekend or a special occasion - this kind of trip is available at Unity Line every day!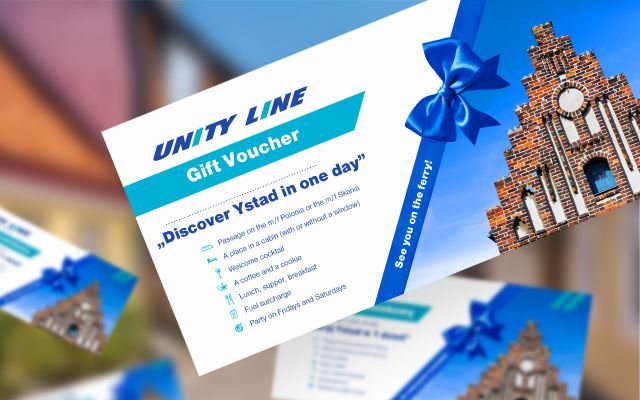 Looking for a special occasion gift?
A GIFT VOUCHER for our cruise "Discover Ystad in a day" will be an excellent choice and a great surprise.
Contact us to buy a voucher:
- tel. +48 91 35 95 593
- mail: zaneta.gielda@unityline.pl
Day one:
11:30 Check-in at the terminal in Świnoujście
13:00 Departure from the port (a great opportunity to enjoy the views from an open deck)
13:00 - 15:30 Served lunch
15:30 - 20:00 Free time - take advantage of our onboard shop's offer
20:00 Arrival at Ystad
20:00 - 22:00 Go for a walk and explore a picturesque city of Ystad (tour guide services are not provided
22:30 - 00:00 Dinner- can be purchased on the ferry (not included in the offer)
Day two:
05:30 - 07:00 Breakfast- can be purchased on the ferry (not included in the offer)
Price
369 PLN per person in a 2-berth cabin
Remarks:
This offer is non-refundable
Additional payment for the SGL cabin - 45 PLN
Additional payment for the LUX cabin - PLN 630
Day one:
21:30 Check-in at the terminal in Świnoujście
23:00 Departure from the port (a great opportunity to enjoy the views from an open deck)
21:30 – 00:00 Dinner - can be purchased on the ferry (not included in the offer)
Day two:
05:30 - 07:00 Breakfast- can be purchased on the ferry (not included in the offer)
07:30 - 13:00 Go for a walk and explore a picturesque city of Ystad (tour guide services are not provided
13:30 Departure from the port (a great opportunity to enjoy the views from an open deck)
11:30 - 20:00 Served lunch
15:30 - 20:00 Free time - take advantage of our onboard shop's offer
20:00 Arrival at Świnoujście
Price
369 PLN per person in a 2-berth cabin
Remarks:
This offer is non-refundable
Additional payment for the SGL cabin - 45 PLN
Additional payment for the LUX cabin - PLN 630
A passage by Polonia or Skania ferry

A place in a cabin on the m/f Polonia and m/f Skania

lunch

welcome drink

bunker surcharge