Unity Line is one of the largest Baltic shipowners whose ferries connect Poland with Sweden. The company was established in May 1994 and is now part of the Polska Żegluga Morska capital group.
OUR MOTTO:
"To be the best ferry operator on the Baltic Sea"
At Unity Line, we strive to:
maximize the safety and comfort of travel,
continuous improvement of the quality of our services,
create an interesting leisure and entertainment offer,
protect the natural environment,
participate in the sport and cultural life of the region.
We attain these goals through:
a team of highly qualified employees and exemplary personal culture,
safe vessels,
listening to the needs of passengers and co-workers,
organizing popular events, competitions or cooperation with artists, creators, schools and universities
FLEET
Unity Line operates four of its own ferries (Polonia, Skania, Wolin, Gryf) and three belonging to Euroafrica Shipping Lines (Galileusz, Copernicus, Jan Śniadecki). Our ferries run on two lines: Świnoujście - Ystad and Świnoujście - Trelleborg.
CARGO
The company specializes in cargo transport and all large-size transport (including
non-standard ones). We enjoy the great trust of road and rail freight forwarders and carriers. This further serves as proof of why Unity Line is responsible for the majority of cargo and truck transport in the Baltic Sea.
TOURISM
The structure of the Unity Line fleet also enables the company to provide passenger transport. We take care not only of efficient transport to the other side of the Baltic Sea, but we also provide access to farther regions of Scandinavia
Our advantage is in responding to real customer needs. Therefore, the company's wide cruise offer suits the needs of cyclists, motorized passengers, as well as those traveling with the whole family or individually.
On Unity Line ferries you can also organize a family feast or company integration event.
REGION
Unity Line is the title sponsor of Regat im. Piotr Waszczenko. It is a cyclical and international event that has been integrating sailing since 2001.
We cooperate with many artists associated with the region. We also support selected schools, universities and sports teams that operate in the West Pomeranian Voivodeship and around the region.
We are active in social media, sharing information about news and interesting facts from the company's life.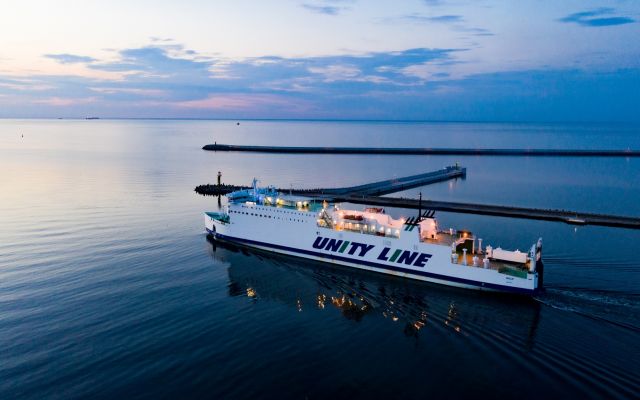 Unity Line briefly
Year of establishment: 1994
The number of ferries at disposal: 7
m/f Polonia
m/f Skania
m/f Jan Śniadecki
m/f Gryf
m/f Galileusz
m/f Wolin
m/f Copernicus
2 routes: Świnoujście - Ystad, Świnoujście - Trelleborg
[{"assetImage":"15043","assetFlag":"","assets":[15043]},{"assetImage":"15038","assetFlag":"","assets":[15038]},{"assetImage":"15040","assetFlag":"","assets":[15040]},{"assetImage":"15037","assetFlag":"","assets":[15037]},{"assetImage":"15044","assetFlag":"","assets":[15044]}]